From Elvis to elder care, Yale alumnus Ruth Taber brings her passion to everything she does
---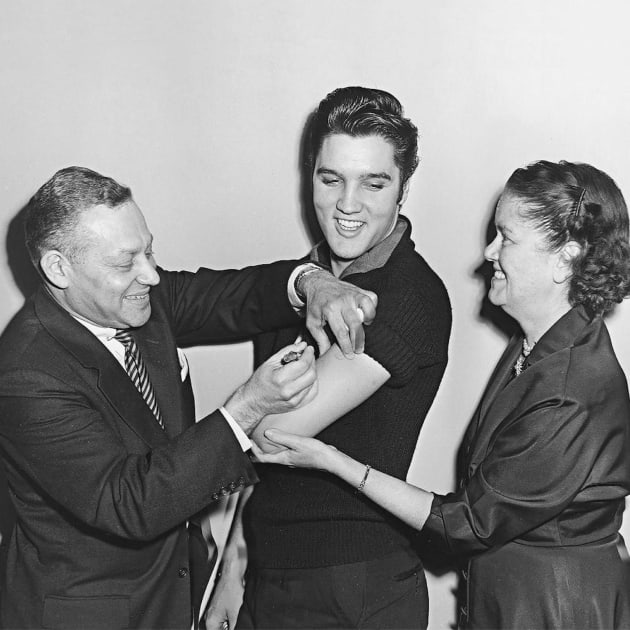 Many remember the iconic image of the king of rock 'n' roll Elvis Presley receiving a polio shot before his appearance on The Ed Sullivan Show in 1956. But few may know that former Yale student Ruth Taber, was instrumental in bringing about this momentous event. .
Taber, a 1954 graduate of Yale School of Medicine's public health program, had just started her first job after graduating from the New York City Department of Health, where Leona Baumgartner, the first female health commissioner city ​​health, was an early advocate of health education.
Tasked with publicizing Jonas Salk's groundbreaking polio vaccine, Taber had no trouble getting the city's young children vaccinated. But reaching the teenage population was becoming a challenge.
Then she had an idea.
"Who was the most popular artist in the world?" she asked in a recent interview. "Elvis Presley! And I knew he was coming to New York to do The Ed Sullivan Show. So I called Elvis' manager, Colonel Tom Parker, and I told him [Elvis] is standing, and he can do a good deed. Why not have him vaccinated, and we can take a picture of him and send him to all the newspapers?
Sure enough, the photo of Elvis getting the polio shot appeared in newspapers across the country and his willingness to get the shot helped convince millions of others to do the same.
"It was the most successful public relations campaign of all time," Taber said. "We have vaccinated two-thirds of all teenagers. It was just common sense."
Fast forward and 65 years later, Taber, now 93, is still as passionate, committed and opinionated about her beliefs as she was in 1956. But rather than polio, Taber is now aiming for the aging and its importance in public health.
She is clearly frustrated with the lack of adequate health services and care for seniors, and the need for more public health and medical students to focus on helping our growing aging population. She thinks a lot of people are prejudiced against older people.
"Getting old is not considered good," she said in a recent phone conversation from her home in El Paso, Texas, where she and her husband, accomplished physician and author, Dr. Ben-Zion Taber, retired in 1990 (he died last year at age 94). "People don't want to grow old. They don't want to be on the wrong side of the ledger.
As for future doctors and public health professionals? Taber said more incentives and attention need to be given to encourage young professionals to engage in geriatric practice and elder care.
"The least amount of [health professionals] choose it as your concentration," she said. "We brainwashed them into believing [older people] are terrible people. They don't go to geriatrics. If (elderly) people get sick, they go to see an internist who doesn't know (geriatric medicine). You know, it takes a long time.
Taber has been advocating for the elderly for 20 years. Bringing people to face and accept age – the concept of it, its reality – and to improve the quality of life of the elderly is what motivates her.
"For me, getting older…is part of the natural cycle of life," she said. "It's like a flower in a garden; it buds, it flowers, it ages, it dies. We are like a garden, or any other living thing. How you get there will be different, but it can be a natural process. There is no remedy. This is one of the things that people refuse to accept.
For a time, Taber was a member of the El Paso Mayor's Advisory Committee on Aging, but that body disbanded in 2006, she said, disappointment clear in her voice. Activities for older adults in El Paso are now consolidated into the Rio Grande Agency on Aging, part of a statewide network spread across Texas. "There's not a lot of planning for the future, but practical day-to-day solutions for low-income people with health needs and a range of centers for seniors looking for daytime activities – which have been very limited since COVID, of course," she says. "The city seems to have lost interest — mostly because there's no money for this unglamorous topic."
Taber is frustrated with what she perceives as a lack of services for seniors in El Paso and elsewhere, whether it's limited transportation options, a shortage of mental health programs or a lack of safe and adequate housing. She compares assisted living facilities for the elderly to "boxes" and "jails". And she does not hesitate to share her thoughts with the local authorities.
Despite his advanced age, Taber isn't slowing down. A former food editor for the El Paso Times, she still writes about food, travel — and aging, of course — for El Paso Inc., a weekly news newspaper that also publishes a quarterly magazine. She remains active and enjoys playing the piano.
It was a love of music that led Taber to pursue a Bachelor of Arts in Music Education at New York University when she was younger. She spent years as a professional accompanist for dance troupes, singers and theater companies.
But it was her passionate nature and ability to connect with others that ultimately led her to public health and Yale. Originally from the Bronx borough of New York, Taber (then known as Ruth Migdal) worked as a receptionist for what is now Montefiore Medical Center. Some of the hospital administrators – including a few Yale alumni – saw the way she interacted with people and suggested she pursue a degree in public health. One of them sent a letter to Ira V. Hiscock, then president of public health at Yale, MA, Sc.D., MPH, and soon she found herself sitting across from him.
Despite her unorthodox background for someone entering the public health field and the fact that she had never taken any science or biology classes as an undergraduate, Taber convinced Hiscock to give her a chance, agreeing to take summer biology classes at Columbia University to help her prepare.
She wrote her Yale thesis – naturally – on communication and persuasion.
Whether it's addressing the challenges of aging or helping eradicate the scourge of disease, for Taber the most important factor in every campaign is getting the word out. "Getting the message out is more important than anything," she said. "It might be the most important thing in the world, but if you can't get the message across, what do you do?"
Elvis couldn't have said it better.