Upper Kirby's company, Honey Art Cafe, brings together the passion and joy of art
---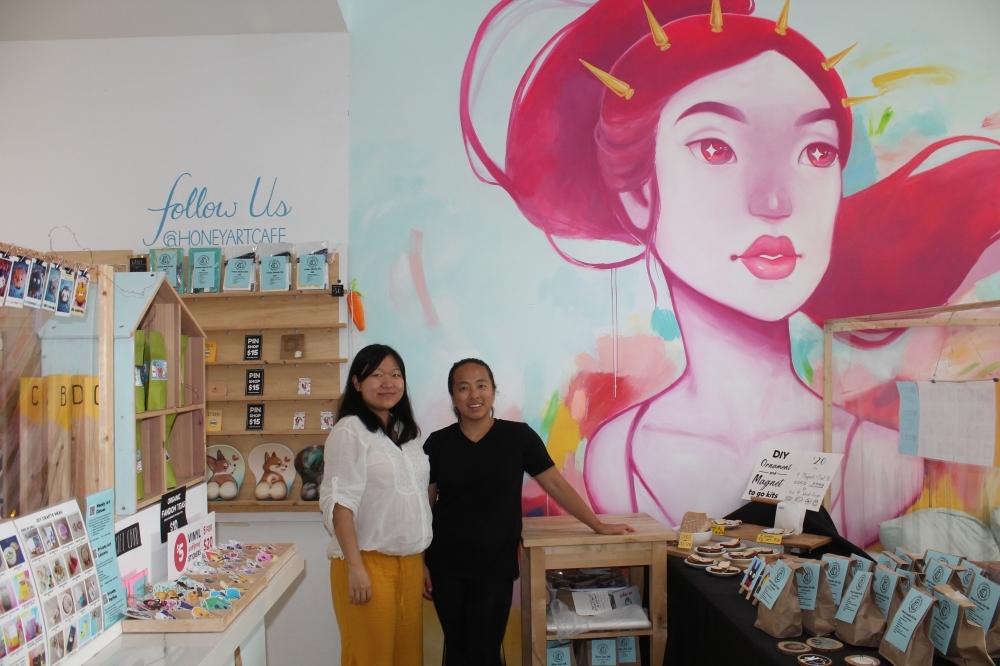 Lulu Fang (left) and Amy Lin opened Honey Art Cafe in December 2016 (Sierra Rozen / Community Impact Newspaper)
For Lulu Fang, passion is what guides her life. Her passion for art and integrating it into the lives of others is what prompted her to open Honey Art Cafe, a specialty cafe that also serves as a venue for art classes.
Fang, along with her business partner Amy Lin, opened the store in December 2016 after attending school together at Rice University. The goal was to create a space where people could rediscover the pleasure of art, Fang said.
"We actually started out with giving art classes and we wanted to expand our business to be more inclusive for everyone because I think the barrier to entry seems really high for a lot of people to creating art, and we just wanted to create a space that made art more accessible to people, "Fang said.
Having no experience in running a business, Fang said she quickly discovered that not having this training was not a setback, but rather helped her focus on the areas in which she had prior knowledge. She obtained a double degree in visual arts and architecture, which helped build the business.
"It's definitely a steep learning curve, but it's not a business learning curve," Fang said.
The cafe not only offers drawing and watercolor lessons led by Fang and Lin, but also more hands-on projects, such as making earrings or decorating a mini terrarium. For people who want to eat and drink after making their artwork, the cafe also serves a variety of hot and frozen drinks and food, including matcha lattes, smoothie bowls, milk tea, and macaroons. .
Ultimately, Fang said she wanted the space to function as a place where people find pleasure in art – something that she says adults miss.
Fang said she hopes to expand the business in the future, but for now, her focus is on showcasing more local artists to help them showcase their work to the community.
"There is nothing quite like discovering a new favorite artist that you say to yourself, 'Wow, this is amazing'," she said. "You never know when you're going to stumble upon that next great piece of art."